2. Seeing the ordinary in extraordinary ways
How I arrived at these images and the exercise of What if?
Awhile back I was creating a process for a group of corporate executives attending an "innovation' retreat. The goal was that by the end of the day, they would have learned to see the world in new ways…with new eyes or beginners eyes. The seminar I was designing spoke to curiosity, noticing, perception, intuitive intelligence and "syntropic" influences in manifesting something from nothing. As well, I hoped to question our relationship to all things and encourage the idea of conscious noticing as a path to growing our options in the world.  As an artist, creating art as metaphor and demonstration seemed a natural vehicle to get my points across.
I stressed a bit over how to demonstrate that. The accompanying pages are a result of that process and the images, which are my own, are the result of the search for the exercise that would illustrate the journey through 'what if' and possibility. The exercise was designed to demystify the creative process as well as demonstrate our ability to actually see objects around us in unexpected ways; to pull them apart, turn them over and take risks with outrageous choices in perspectives. I wanted attendees to have a measurable result of having learned to see differently…creating a new reality out of existing situations, seeing the ordinary in not so ordinary, even extra-ordinary ways. This is some of what I hope to share with you.
The illustrations on these pages lay dormant until time, technology, purpose and passion inspired me to merge three mediums…collage, photography and digital manipulation. Each medium informed the other and the whole really did become greater than the sum of its teeny, weeny, jameshallison casino annoying, little parts in synergistic and unexpected ways.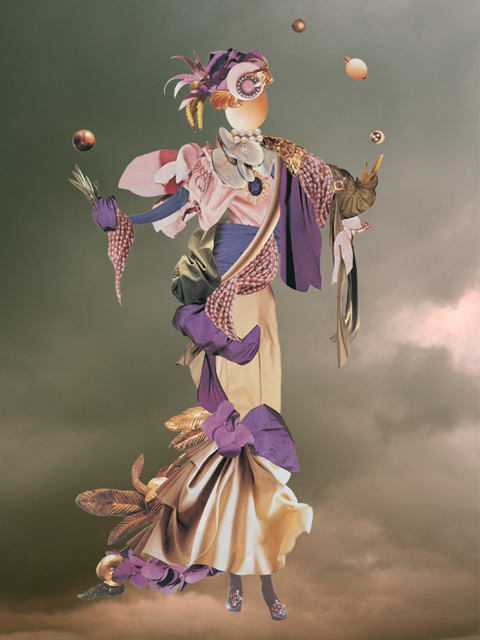 The central characters casino online were created through collage. The pieces were carefully chosen for shadow, light, color and texture. The selected artifacts, accessories and fabrics had to have a design wow factor. Overall, the images were influenced by my love of fashion, the human form With those people they trust, capricorn horoscopes are able to forget about strict self-control and become charming, playful and light-minded. and a sideways world-view. You will notice that the pieces were selected from wild life, sea life, the cosmos, fashion pieces, fabrics, jewelry, food, furniture, hardware and so on.
I eventually redid backgrounds for my images.  I  photographed clouds and forest fire smoke from a spectacular forest fire we had here in Sun Valley as backgrounds and manipulated them in photoshop to compliment the central characters.  The computer casino online was obviously critical in synthesizing the efforts in each domain. Scanning, mending, tweaking, colorizing and merging the different aspects of my work all happened at the Mac..
So much time passed by the time the work evolved to what it is now it seemed patience had finally met passion in a technological time warp. Well, not a completely true statement. Having patience would be an alarming stretch to describe me. More likely, I put the images away…forgot about them…rediscovered them and did what I usually do. I asked myself "Now what? and What if?
Since beginning this work I, truly, have never seen the world in the same way. Each time I turn a magazine page it is a challenge for me to see the images for what they are without translating each color, shape, artifact or gown into what might be possible "if" it could morph into something else. When I see an antique furniture ad, I may notice the sweet lines of table leg. I also see the possibility of what else it could become. If I turn the page upside down I see that same leg in a new way. What was just a table leg holds infinite opportunities to become something else just by turning it slightly. Combinations of possibility abound in the world around us and we need only to be awake to notice them.  The "What if" Factor underlies, at many levels, how I operate in the world and how I translate what I see into what might be or could be if…
I invite you to join me on this journey of living in the question….many questions, for now, in the domain of possibility, shifting our personal paradigms and rearranging our world views.
Next post:  Why care about how we see the world?